2011 Bodacious
Three classic varietals combine in this head-turning wine that will not be denied.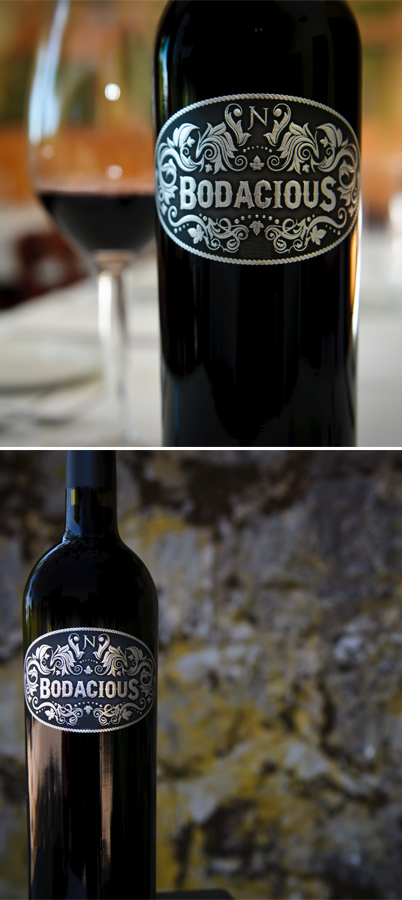 A dramatic wine that celebrates the winemaker's art of blending…
Ripe, powerful and generous, the 2011 Bodacious boasts a vivid array of black currant, blackberry, purple plum and warm fig aromas framed by notes of baking spices, black licorice and violet. Similar flavors push through on the palate, deftly layered with notes of bittersweet chocolate, cinnamon and mocha. The tannins are soft and velvety, but the predominance of Cabernet Sauvignon in this vintage brings structure and a pleasing acidity to the long, mouth-caressing finish.
The 2011 vintage was both cooler and wetter than average, delaying vine and grape development by several weeks. During the unusually cool summer growing season we trained the vine canopies to be more open, ensuring sunlight, warmth and good air circulation around the clusters. We also thinned the fruit in several passes before harvest. As a result, we were able to bring in physiologically ripe grapes at lower than normal sugar levels – a combination which can be beneficial to the resulting wine. The three varieties in our 2011 Bodacious blend – Cabernet Sauvignon (58%), Cabernet Franc (31%), Petit Verdot (11%) – were grown exclusively on our Komes Ranch here in Rutherford, Napa Valley.
Each lot of grapes was sorted, crushed and quickly placed in stainless steel tanks for fermentation. The grapes underwent extended maceration to extract additional color, tannin and flavor from the delicate skins. Once dry, each lot was placed in French oak barrels (a mix of coopers) for a period of 20 months. We used a combination of new (1/3) and 1- and 2-year old barrels (2/3) to ensure the fresh fruit flavors were supported, but not masked, by the oak. Sampled periodically throughout their time in barrel, the wine was assembled after a series of intense and lively tastings with much discussion to determine the final blend.
Quick Facts
Appellation
Rutherford, Napa Valley
Varietal
58% Cabernet Sauvignon, 31% Cabernet Franc, 11% Petit Verdot
Case Production
487
Aging
21 months in 90% French, 10% American oak barrels
Price
$ 50/Bottle
ACQUIRE