2018 Lavender Hill Vineyard Pinot Noir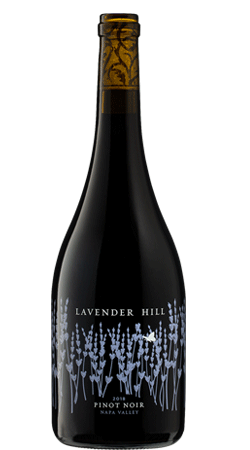 Vineyard
We're excited to introduce a new wine from Jon Nathaniel: our 2018 Lavender Hill Vineyard Pinot Noir. Our Lavender Hill Vineyard is one of the coolest sites in Napa Valley, located in the southern part of the Carneros AVA where fog and breezes from the nearby San Pablo Bay create an optimal climate for growing Chardonnay and Pinot Noir. Our family experimented with Pinot Noir in the early 2000s, planting a variety of clones in a trial to determine which would produce the highest quality fruit. We returned to the project in 2015 planting the three clones that showed the most promise: two Burgundian clones, Clone 38 from Dijon and Clone 90 from Chambertin, plus the "suitcase" clone 828 (a clone smuggled into the U.S. from Dijon many years ago). These clones produce low yields of small clusters and berries, resulting in concentrated wines with intense aromatics and beautiful fruit characteristics. The grapes for this wine came from three small blocks, less than 1.5 acres each, harvested as each vine row obtained ideal ripeness.
Winemaking
After hand sorting in the vineyard and again at the winery, the grapes for our Lavender Hill Pinot Noir were gently crushed and transferred to small stainless steel tanks where the fruit underwent a four-day cold soak. Following fermentation, one-hundred percent of the wine aged for 18 months in small French oak barrels from the Burgundian barrel cooper, François Frères. We used a mix of toast levels as well as new (35%) and used (65%) barrels so as not to overwhelm the delicate and aromatic Pinot Noir fruit.
Vintage
2018 brought a long, steady and near-ideal growing season to Napa Valley with moderate weather in spring and summer and no significant heat spikes. Harvest was later than in recent years, with continued mild weather through the fall that allowed grapes to gradually ripen and develop both sweetness and acidity. Overall it was an uneventful and fine growing season yielding wines of intensity, concentration and balance.
Tasting Notes
Our 2018 Lavender Hill Pinot Noir is the first Pinot Noir to come from our Lavender Hill Vineyard in many years. The young vines produced a vibrant, fresh wine with perfumed fruit – raspberry, cherry and strawberry preserves – along with pretty floral and sandalwood notes and hints of graham cracker crust, caramelized sugar and toasty marshmallow. The tannins are mild but there's enough acid and structure to the wine to see it through at least ten years of aging. We're excited by this first Pinot Noir from Jon Nathaniel, and look forward to seeing how this vineyard matures and evolves in years to come.
Varietal: 100% Pinot Noir
Appellation: Napa Valley
Aging: 100% French oak barrels
Reviews
90 points
Jeb Dunnuck
"Looking at the three reds from Jon Nathaniel Cellars and starting with the 2018 Pinot Noir Lavender Hill, this medium ruby-colored 2018 has a spicy, complex bouquet of mulled red fruits, herbes de Provence, spice, and flowery incense. It's ripe, medium to full-bodied, and nicely textured on the palate, with a seamless, incredibly gulpable, easygoing style. Enjoy bottles over the coming 3-5 years." Read more. January 2021
93 points
Blue Lifestyle
"Medium ruby color, ripe berry nose, smooth and showing ripe cherry and notes of earth; dense, rich and concentrated, long and balanced." —Anthony Dias Blue, September 2020